Kaikaku
General Characteristics of Kaikaku Compared with those of Kaizen
Kaikaku (改革), a Japanese term, which translates "radical change or improvement", is a lean approach involving a radical change of a production system within a short time period. This implies that an entire business is changed radically, normally always in the form of a project.
Kaikaku is about introducing new knowledge, new strategies, new forms of thinking, deeper communication between staff and all levels employees, as well as new production techniques or equipment. It is most often initiated by management, since the change as such and the result will significantly impact business.
According to Bodek (2004), in the United States, Kaikaku is often considered equivalent to KaizenOpens in new window. However, many Japanese firms do not conceive of Kaikaku as Kaizen.
In the literature, Kaizen is often described as small-step and incremental changes based on existing methods of operating production (Brunet & New, 2003). Kaikaku, in contrast, tends to entail large-scale changes involving wide-ranging activities.
Kaizen can also bring about fundamental changes and large performance gains over time. However, it is more often considered an opportunity rather than a necessity (Orlikowski, 1996).
It's fair to add that a production system is a sociotechnical system. Thus, in Kaikaku, changes are made to both the technical and social systems, for instance, in production processes, pieces of production equipment, information systems, management processes, manufacturing strategies, and cultures in organizations. In some cases, the scope of the change was not only the production systems but the whole company.
As reported, implementation of lean productionOpens in new window was one of the popular efforts under Kaikaku. An implementation of lean production often brings about a paradigm shift in the company toward a lean enterprise (e.g., Iwaki, 2005; Smeds, 1994).
Table X-1 presents general characteristics of Kaikaku found in reports compared with those of Kaizen often found in the literature.
An implementation of lean production seems to be a typical example of Kaikaku at the time the reports were published. In contrast, Kaizen usually focuses on a narrowly defined area of a system, for instance, a production cell or part of a production line.
Table X-1. General characteristics of Kaikaku found in reports compared with those of Kaizen often found in the literature.
General characteristics of Kaikaku found in reports
Characteristics of Kaizen in literature
Fundamental change aiming to achieve radical improvements in operational performance
Incremental, small-step changes
Large-scale and wide-ranging activity
Small-scale and narrowly focused activity
Deliberate activity initiated from top or senior management
Autonomy-encouraged activity
Discrete effort within a definite period of time
Continuous effort
Involving stretched target setting
Ongoing and incremental targets
A process involving a large-scale change
A process characterized as a PDCA (Plan, Do, Check, and Action) cycle
As reported, Kaikaku represents a deliberate effort initiated by top and senior management. It's said to be driven by strong leadership from the management. Since Kaikaku often changed the processes ranging over different groups, divisions, or departments in the organizations, an effective coordination and direction from high level management was considered important.
Although Kaikaku can be characterized as a top-down approach, this does not necessarily mean that changes are never collaborative or participative. In the reports, many of the Kaikaku activities were initiated by management, but actual changes were driven by employees at lower levels of the organization.
On the other hand, in the literature, Kaizen is frequently treated as a bottom-up approach. It is usually encouraged by the management, but each Kaizen activity is often conducted more autonomously and in a less coordinated manner between improvement groups (Berger, 1997).
As reported, Kaikaku is a discrete effort that has a definite time period with specific targets to be achieved at the end of the period. Therefore, Kaikaku is typically seen as a large-scale project or initiative. A Kaikaku activity often contained smaller projects carried out at different points in time during the overall activity.
The time frames of a Kaikaku activity ranged from a few months to a few years. On the other hand, Kaizen is normally seen as a continuous effort, reflecting the embedded nature of the practice in a never-ending journey toward quality and efficiency (Brunet & New, 2003).
Kaikaku activities often include significantly stretched targets, for instance, halving manufacturing lead time, doubling productivity, or reducing by half the area of the shop floor used for production.
Such stretched targets are usually set by the management in order to provoke people in the organization into questioning the current state of operations and shared mindsets and behaviors. In Kaizen, targets are often ongoing and incremental. They are often incorporated into monthly or yearly quality and productivity targets (Imai, 1986).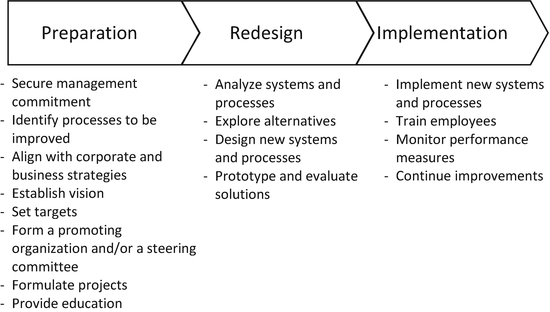 At the general level, a process of Kaikaku in the reports resembles a change process often presented in theories of business process reengineeringOpens in new window, alternatively called process innovation.
Process innovation was a popular topic in both academia and industry in the 1990s and early 2000s. A general process of Kaikaku can be described based on the models presented in Figure X-1. The process includes:
preparation,
redesign, and
implementation steps.
Different activities are performed in each step. While Kaikaku involves a process oriented toward a project involving large-scale change, a Kaizen process is often described as a PDCA cycle.
With respect to concerns that are external to production, the increasing level of competition in the global arena was frequently mentioned in the report as a reason for initiating Kaikaku.
The need to deal with customers' demands for a shorter lead time to delivery, increasing product variation, and shorter product life cycles were other major reasons to launch many of the Kaikaku activities.
The need for change was an urgently felt one at most of the companies, but it was in terms of preventing a possible crisis down the road. Only a couple of companies launched the initiatives because they were already in crisis and required dramatic and immediate improvements in their operations.
As for concerns internal to production, the need for shorter manufacturing lead times and lower inventories was frequently mentioned reason for the Kaikaku activities. Dissatisfaction with the present pace of improvement and the need for attaining a higher improvement pace was another major motivation for the initiation of Kaikaku. For instance, Fukushima (2007) and Omori (2009) mentioned that the companies started the activities because their improvements had been slow and reactive. These companies wanted to pick up the current pace of improvement.
A number of companies that had been working with Kaizen for decades also initiated the activities. For instance, one company started Kaikaku because Kaizen had stagnated owning to increasing product variation and shorter product life cycles (Sawa, 2007).
Another company initiated the Kaikaku activity to encourage employees to be more innovative in making improvements (Shira, 2007). Other reasons include the need to fulfill the business strategy, introduce new products, relocate a factory, and carry out renovations.
Research data for this work have been adapted from the manuals:
Tomas Backström, Anders Fundin, Peter E. Johansson. Innovative Quality Improvements in Operations: Introducing Emergent Quality ...
Jorge Luis García-Alcaraz, Aidé Aracely. Lean Manufacturing in the Developing World: Methodology, Case Studies and ...
Pascal Dennis. Lean Production Simplified, Second Edition: A Plain-Language Guide to the ...